Felix Levesque, 19 Mar 2021, 11:24 PM UTC
A Saturday of flooding, heavy rain, strong winds and large surf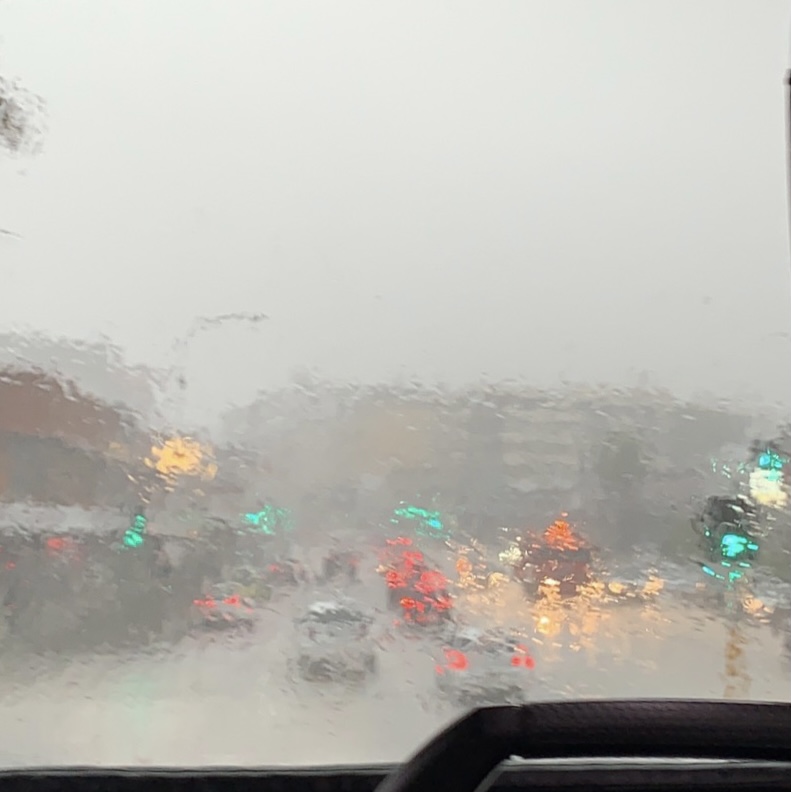 Heavy rain that has brought flooding rainfall and intense winds to parts of the Mid North Coast on Friday is shifting south and taking aim at the Sydney region and surrounding parts.
Over the course of the past few days, a broad fetch of moisture-laden easterly winds has been feeding into a coastal trough, leading to heavy and flooding rainfall over parts of eastern NSW. On the Mid North Coast, Kempsey has now received an astonishing 407.4mm in the 72 hours to 9am on Saturday. More than half of this fell in the 24 hours to 9am on Friday, which was the wettest March day for Kempsey on record. With the monthly total now up to 488.2mm, this is also the wettest March in the 20 years of record keeping at the station.
Elsewhere in the region, Taree Ap received just shy of 150mm in the last 24 hours, bringing the monthly total just 2.2mm off the previous March record set in 2017 of 405.2mm, a mark the station is sure to meet soon enough. Port Macquarie has also been drenched with 346mm over the last 3 days.
All this rain has triggered numerous Major Flood Warnings, notably for the Hastings, Manning, Gloucester and Camden Haven Rivers, with serious flooding observed in towns of Kempsey, Wauchope, Settlement Point, Wingham and Taree.
This rainfall is now shifting southwards and intensifying across the Hunter, Central Coast and Sydney regions this morning, while easing further north. Widespread falls of 60-100mm will be possible on Saturday across parts of eastern NSW south of about Taree, extending all the way to Wollongong and the Illawarra. More isolated and heavy falls of 100-200mm will bring risk of heavy flooding across parts of the Hunter and Blue Mountains regions. A moderate-to-major flood warning is currently in place for the Hawkesbury, Nepean and Colo Rivers, along with a Severe Weather Warning for intense rain, possibly life-threatening flooding, gusty winds and heavy surf.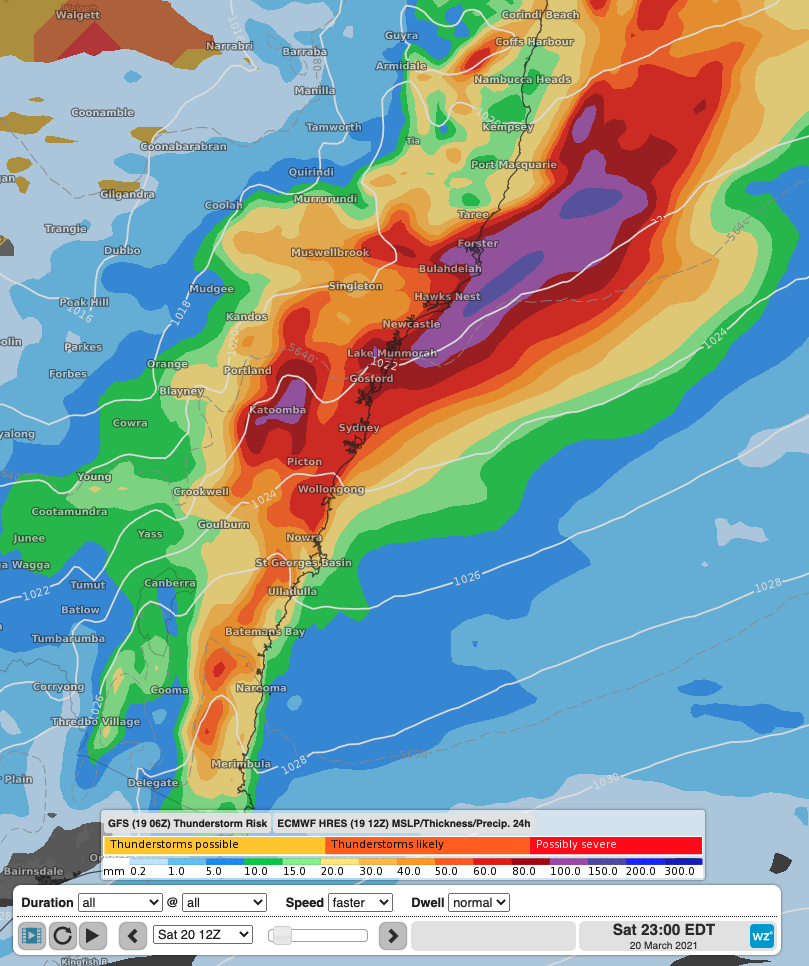 Modelled total rainfall across parts of eastern NSW on Saturday showing widespread areas seeing rainfall totals in excess of 20-40mm, with isolated falls reaching into the 100mm range.
While rainfall will ease into Sunday, another trough will draw further heavy rainfall across parts of northern and eastern next week, potentially leading to further flooding across parts of the state already saturated with water. To view the latest warnings in place for NSW, visit here.