Ben Domensino, 27 Feb 2022, 9:18 PM UTC
677 mm in three days breaks Brisbane rainfall record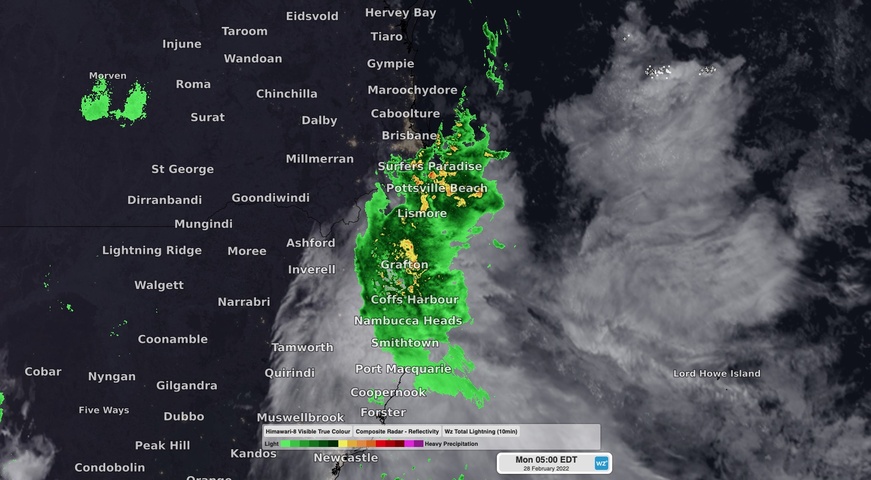 An extremely dangerous flooding situation has developed in southeast QLD and northeast NSW in response to several days of unrelenting rainfall, which included Brisbane's wettest three days on record.
A dynamic weather pattern involving a sustained stream of moisture-laden east-northeasterly winds, a near-stationary low pressure trough and a slow moving upper-level low pressure system caused a river of atmospheric moisture to become focused over southeast QLD during the past six days.
Here are some of the notable rainfall totals observed between 9am Tuesday, February 22 and 6am Monday, February 28:
Mount Glorious, QLD 1771 mm
Bracken Ridge, QLD 1160 mm
Murrumba Downs, QLD 1145 mm
Pomona, QLD 1150 mm
Cooran, QLD 1130 mm
Upper Springbrook, QLD 1121 mm
Doon Doon, NSW 1036 mm
Brisbane 792.8 mm
Lismore 716 mm
Brisbane has broken several rainfall records amid this deluge. The city's running three-day total from 9am Friday to 6am on Monday is 676.8 mm, beating the old three-day record of 600.4 mm from 1974. The running weekly total, from 9am last Monday to 6am this Monday, has reached 795 mm, breaking the city's previous seven-day record of 661.4 mm from 1974.
This immense amount of rain has been too much for rivers to cope with.
Moderate to Major flood warnings are currently in place across a large number of rivers and creeks across southeast QLD and northeast NSW.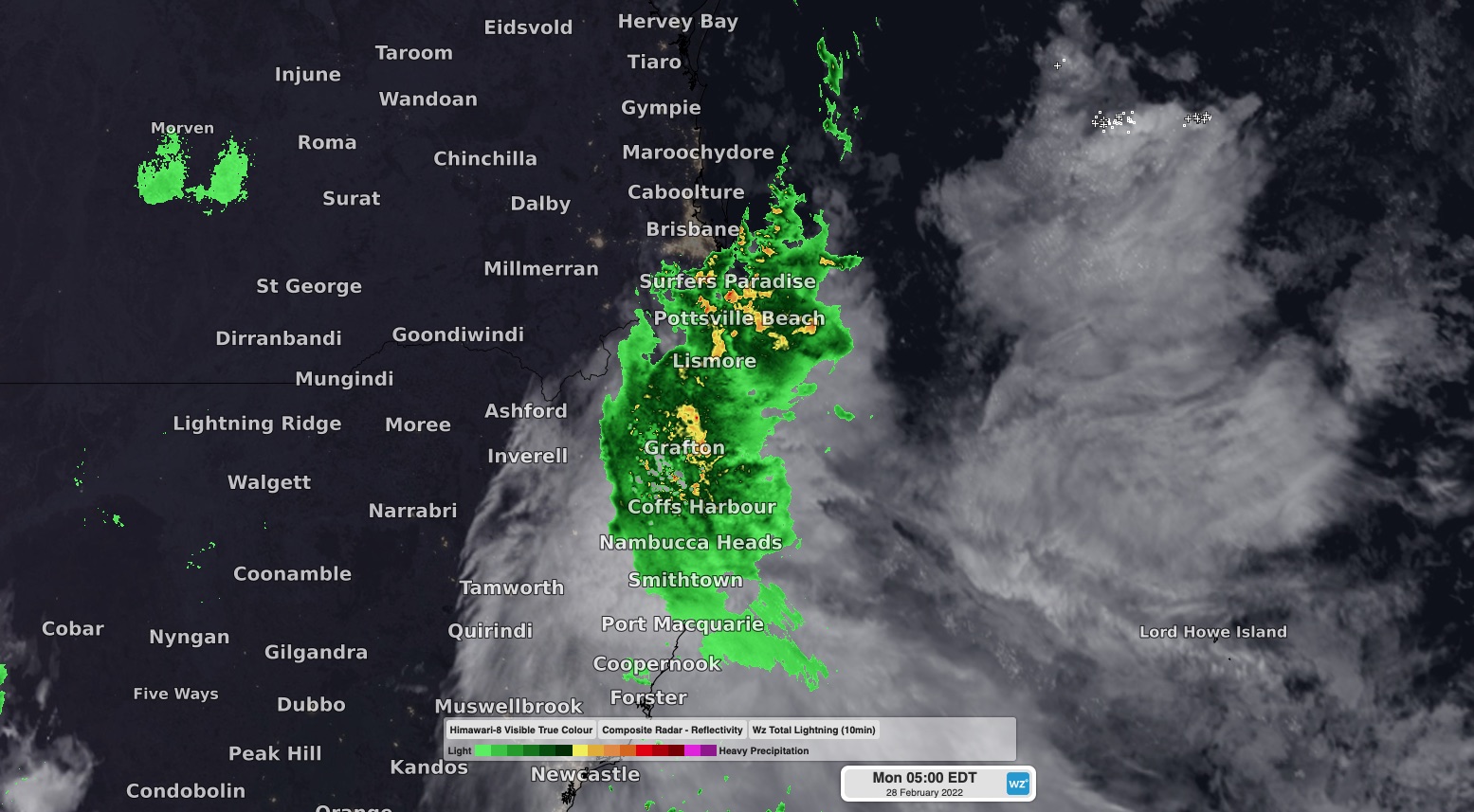 Image: Composite radar and satellite showing rain spreading over northeast NSW and far southeast QLD on Monday morning.
In Brisbane, the Brisbane River is expected to peak around 4 metres with the high tide on Monday morning and should see another peak near 3.3 metres with Monday afternoon's high tide. At 6:41am AEST on Monday, the river was up to 3.59 metres in the city, which is above the major flood threshold of 3.5 metres.
South of the border, rivers have been rising rapidly over the last 12-24 hours in response to the heavy rain that spread south from Queensland.
Lismore is experiencing an unprecedented flood after the town's levee was overtopped in the early hours of Monday morning. As of 7:45 am AEDT on Monday, the Wilsons River had reached 13.5 metres at Lismore. This was more than one metre above the town's previous record of 12.27 metres from 1954.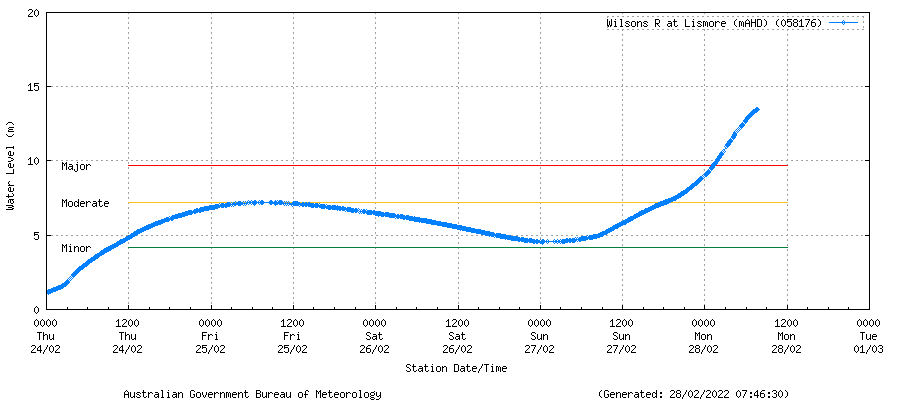 Image: Observed river level heights at Lismore, showing the rapid rise on Monday morning. Source: Bureau of Meteorology.
Be sure to check the latest flood warnings and evacuation advisories if you live anywhere in southeast QLD or northeast NSW.
Note to media: You are welcome to republish text from the above news article as direct quotes from Weatherzone. When doing so, please reference
www.weatherzone.com.au
in the credit.