Eliza Rogers, 07 May 2014, 11:46 PM UTC
Wild dogs and pigs move in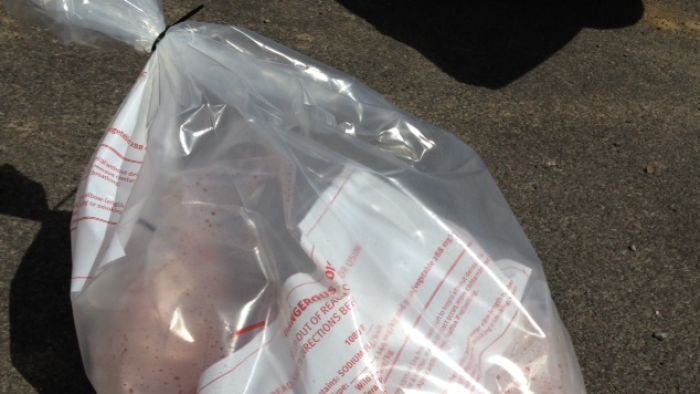 Image: ABC Rural. Source: ABC
As industry leaders prepare to review a national wild dog management plan, Queensland landholders are bracing for the annual onslaught on both feral dogs and pigs. Some say the long dry and late wet have slowed the breeding cycle, but that's not stopping people from attempting to control numbers. More than 100 landholders visited Bundaberg Regional Council depots yesterday, to collect free bags of meat, injected with 1080 poison, to bait wild dogs on their properties. It's the first of two coordinated baiting programs for the year, targeting adults during breeding season, then pups three months later. Childers-based council land protection officer Spencer Katt, says the turnout has been bigger than expected because of extra media coverage and weather conditions. "I think the (long dry and late wet) might have slowed them up a bit, even the pigs, we caught some over in Childers and the females didn't have any babies inside, and they should have by now." Wendy Lowien from Bundaberg took home 40 baits, hoping to reduce the dog problem at her place. "Most evenings, you can hear the dogs howling and the cattle are just running to fences trying to escape." Further south, Gympie macadamia farmer Les Gain is starting his annual battle with feral pigs. Situated on the edge of the Amamoor State Forest, Mr Gain says about 20 pigs have wreaked havoc in his orchard every season for the past three years. He estimates it's cost him $35,000 in lost production. He's rigged up cameras, traps, electric fencing, and even a pile of reject macadamias to lure away the pigs, but it hasn't stopped the first boar arriving for the season. Mr Gain wants the government to better utilise public resources. "There's a lot of people interested in hunting, and it would be nice to think there's some scheme, that wouldn't cost the government very much, that they could harness those talents." The Gympie and North Burnett councils are also holding wild dog baiting programs.
Note to media: You are welcome to republish text from the above news article as direct quotes from Weatherzone. When doing so, please reference
www.weatherzone.com.au
in the credit.