Scott Morris, 16 Oct 2021, 12:46 AM UTC
Wet end to wild week of weather in Australia's southeast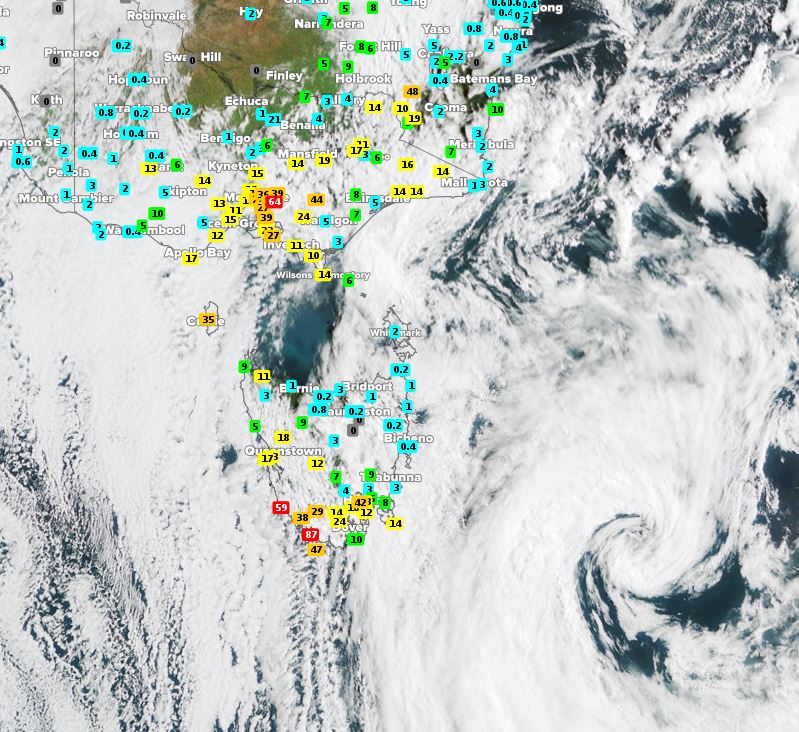 There has been plenty of rain to go around in the southeast of Australia for the past week, and the rainfall totals for the past two days may have just summed up the week nicely.
A complex low pressure system has just moved into the Tasman Sea and is responsible for a lot of the weather that has been hitting the southeast during the past couple of days. Thursday's rainfall over the southern states was no exception.
In Tasmania it was the wettest October day for:
Lake Leake (41.0mm) in 45 years

Devonport (38.2mm) in 29 years

Low Head (27.4mm) and Fingal (34.6mm) in 16 years



In South Australia it was also the wettest October day for:
Adelaide (29.2mm) in 22 years

Parafield (23.2mm) and Edinburgh (24.0mm) in 21 years

Yunta (24.0mm) in 18 years

Eudunda (18.0) in 16 years



The effects of the low are still being felt now, with brisk winds and showers impacting NSW, Victoria and Tasmania. As a result, damaging wind warnings have been issued for parts of NSW and Victoria. Furthermore, rainfall totals exceeding 50mm have been recorded in each of South Australia, Victoria and Tasmania in the 24 hours to 9am Saturday morning.
In Tasmania, Friday was the wettest October day for:
Maatsuyker Island (46.6mm) in 86 years

King Island (35.2mm) in 27 years

Mt Wellington (42.2mm) in 20 years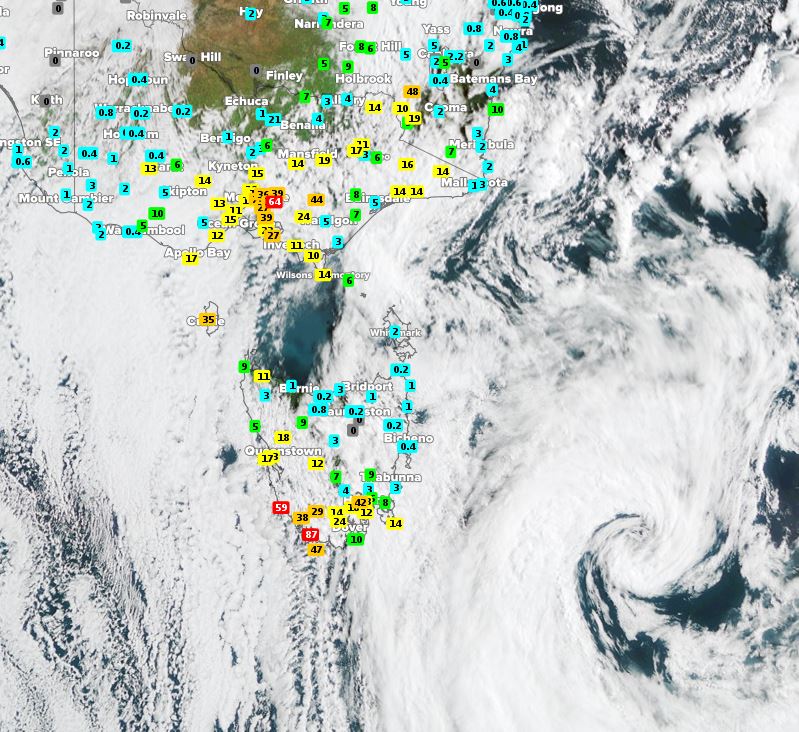 Image: Satellite (Himawari-8) imagery showing low pressure system (bottom right) with recorded rainfall totals in 24 hours at 9am EDT Saturday
As a high pressure system moves over the southeast, calmer conditions should ensue and bring an end to days of wild weather. However, another low pressure system may spoil these calm conditions moving into the coming week.