Jess Miskelly, 26 Sep 2021, 12:13 AM UTC
Spring rains are coming
The best spring rain in a decade is expected to fall over agricultural districts of New South Wales and Victoria this week.
Away west from the Great Dividing Range, there hasn't been more than a dribble of rain since September 5.
Starting Tuesday this week, a perfect set-up for a wet outbreak over the southeast (as described here: https://www.weatherzone.com.au/news/a-perfect-recipe-for-wet-weather/535049) will start to unfold.
Showers will begin over New South Wales and Victoria on Tuesday afternoon as moisture from the northeast begins to collide with a trough approaching from the west. Then Wednesday is likely to be the wettest day as the trough crosses. Totals of 20-30mm with isolated falls of 50mm are expected for an area extending from northwest Melbourne, northwards to the Northern Country of Victoria, and then up through the Riverina to the Central and North West Plains of New South Wales. The heavier falls will extend further westward along the higher ground from Peak Hill to Cobar, with lesser totals immediately to the south.
Locations such as Shepparton, Hay, Walgett and Coonamble are all expected to receive of the order of 25mm. Even Bourke is expected to pick up 5-10mm.
The last time more than 25mm of rain fell in a day at Shepparton during September was 2011. For Hay, the last time was 2010, until they had 31mm on September 4 this year. For Walgett and Coonamble, it's 2016 since more than 25 mm of rain fell in a day during September.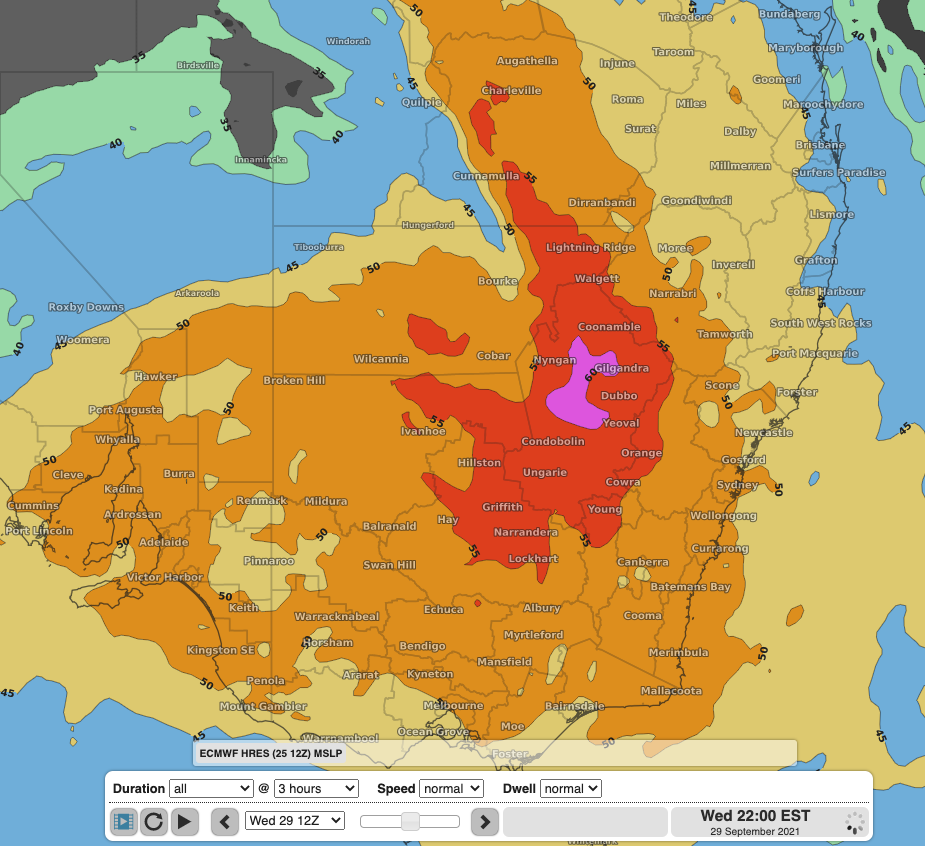 Image: 24 hour precipitation (mm) and 500 hPa height (a measure of instability) over southeast Australia (top) at 10pm Wednesday 29th September according the the ECMWF model. Bottom: the Total Totals index (another measure of instability) at the same time, showing very high values over western NSW
Wednesday isn't the end of this event. During Thursday, rain and showers will—as usual—start to contract eastwards towards the Divide, where another day with similar totals to Wednesday is expected. However, some showers will still persist over inland NSW and Victoria, particularly the southern and western slopes. These showers will persist right through to Saturday 2nd, causing a tick-up in totals over the 4 day period.