25 Feb 2008, 4:23 AM UTC
Residents mop up after Rockhampton flood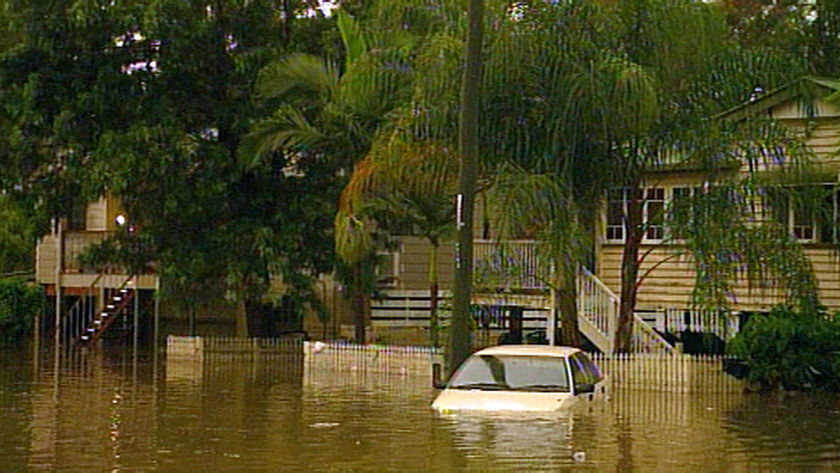 Image: ABC TV. Source: ABC
Rockhampton residents are mopping up after torrential rain caused flash flooding in the central Queensland city overnight. The Fitzroy River was already in flood, but up to 200 millimetres of rain fell in just a few hours. Several homes and the airport were inundated. But Airport manager David Backwell says the flooding has not affected flights. "Our main runway has been shortened this morning to 1,700 metres, which is still quite acceptable to jet operations," he said. Weather consultant Mike Griffin says part of the Bruce Highway on Rockhampton's southside is under water. "From Prospect Street all the way across the Gladstone Road, right across - there's water as far as I can see, almost to the river," he said. "It's a metre deep between Prospect Street, Separation Street - that's all under water there on Gladstone Road. "That won't be open until late today, maybe tomorrow." Gavin Steele from the Disaster Management Committee says about 70 calls for help were received, but most people were prepared. "A lot of people were doing a lot of work really early in the morning and probably to some extent have dealt with it," he said. "I guess the timing of it happened and people were just getting stuck in and moving what they had to do and trying to get rid of water where they could." Lakes Creek resident Jean says her street is awash. "We're walking waist-deep in the street and it's probably about three-feet thigh in our back yard and under our house," she said. Local resident Sybil Pawley says water levels rose quickly in the northside suburb of Park Avenue. "I looked out to the laundry out the back and the water was three or four inches deep," she said. "I went out to the car to get my mobile and by opening the gate and shifting my mats that had blown up against the door and dammed the water, that water did drain away eventually." The weather bureau says more showers and storms are possible later today.
Note to media: You are welcome to republish text from the above news article as direct quotes from Weatherzone. When doing so, please reference
www.weatherzone.com.au
in the credit.