Ben Nielsen, 19 Jan 2018, 4:47 AM UTC
'Maniacal cackles' show frogs adapting to hot, dry environments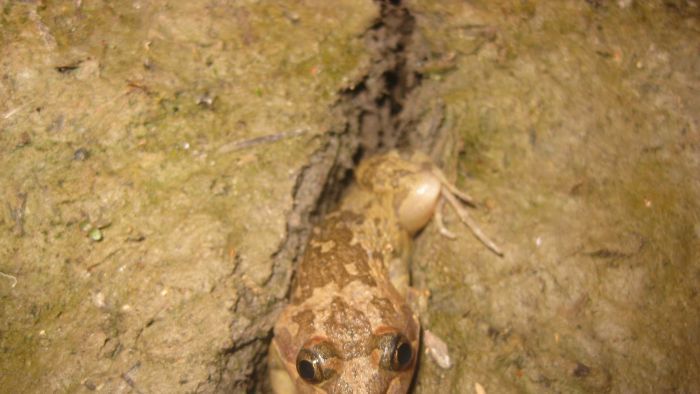 Image: ABC Goulburn Murray. Source: ABC
New research by Charles Sturt University shows frogs living along the Lachlan River in NSW are adapting to their semi-arid habitat. The study, conducted by Albury-based researcher Dr Carmen Amos, between September 2012 and April 2013, explored the environmental factors influencing local frog populations. Around 10 frog species were found in the mid to lower Lachlan River, including the barking marsh frog, desert tree frog, and the Eastern sign-bearing froglet. Dr Amos said she even spotted the endangered Southern bell frog, which had not been seen in the region for decades. "At the broader scale, each frog has a really unique relationship with the environment they exist in — there's not one dominant factor, although water is a really strong driver," she said. "One of the most interesting things I pulled out of the research was that on a fine scale, frogs use deep soil cracks, 70 per cent of the time, to shelter from these conditions." Other environmental factors were also found to influence the behaviour, breeding and call activity of each frog species. Dr Amos said there was a higher chance of hearing the "maniacal cackle" of the Peron's tree frog during warmer weather, whereas the giant banjo frog called mainly after heavy rainfall. Amphibians living in semi-arid environments Even though frogs are more commonly associated with moist, tropical forests or swamps, Dr Amos said they have shown resilience to the dry conditions of southern New South Wales. is the fourth longest river in Australia, running from the Great Dividing Range to the Great Cumbung Swamp. It receives rainfall of around 300 millimetres every year and has naturally high evaporation rates. Dr Amos said some frogs did really well in a modified landscape. "By looking at what sort of diversity and what combination of frogs is there you can tell how well the system is going," she said. "I always say if you don't have any frogs you've probably got an issue. "By examining what's there, you can tell how healthy a wetland is, and understand how the food web as a whole, is going as well." Frogs help reveal habitat health Dr Amos said her research provided an insight into a vital link in the ecosystem. She hoped it would help improve wetland and river management. "These findings can really help inform habitat management and help support species that are already there," she said. According to the Murray Darling Basin Authority, flows into the wetlands had been low over the last few decades. But, Dr Amos said the presence of frogs in the region indicated the river was "going okay", with a natural boom and bust life cycle. "We just need to make sure we respect our wetland environments and do our best to conserve not just our frog populations but our wetland and floodplain areas," Dr Amos said. "They're really important to our system."
Note to media: You are welcome to republish text from the above news article as direct quotes from Weatherzone. When doing so, please reference
www.weatherzone.com.au
in the credit.