Anthony Sharwood, 25 Nov 2021, 9:53 PM UTC
Lucky motorist makes it through outback highway closed by floodwaters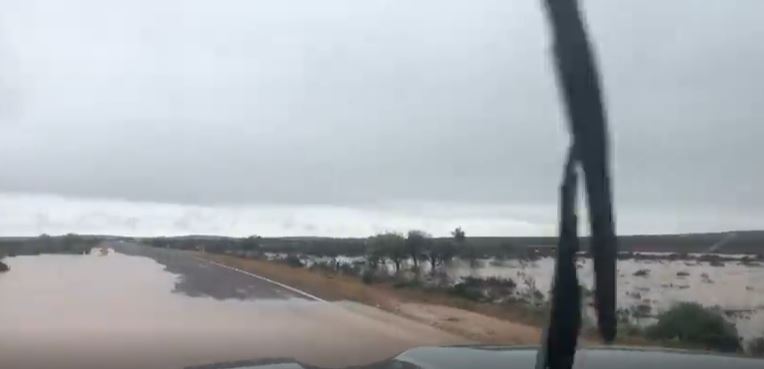 The Barrier Highway from Broken Hill in NSW to Adelaide remains closed on Friday morning, after heavy rain in outback New South Wales and South Australia.
The highway is closed for good reason:
Rain totals up to 100 mm have been recorded in recent days across much of the highway's 1000 km route from the central western NSW town of Nyngan to Adelaide
The area has gained 3-4 times its monthly average rainfall in the past few weeks.
Muddy water is gushing across the highway in many places, especially on the South Australian side of the border.
Weatherzone spoke to motorist Susan Meagher who was heading to Broken Hill after a trip to SA and was unaware the highway had been declared closed while her trip was underway (watch her video here).
"There were so many water crossings, a few flowing very fast and a few quite deep but none over the bonnet," she told Weatherzone.
"We just took it easy, slow and steady, trying to pick the shallowest route. We had no idea the road was closed, no signs or road blocks heading to Broken Hill but we passed plenty going the other way after we were through the worst parts!"
Barrier Highway flooding (25km from Broken Hill) pic.twitter.com/La28E5hj2X

— Sarah McConnell (@SarahJMcConnell) November 24, 2021
With rain continuing in eastern Australian today and heavy falls likely in some areas, now is an excellent time to remind you all never, ever to drive through floodwaters if you can possibly avoid it, and to check the status of any roads in remote or rural areas before you embark on any trip, long or short.
The Barrier Highway between Broken Hill and Adelaide is Closed. pic.twitter.com/G9F7MxjDbE

— BillOrmonde (@BillOrmonde_2) November 24, 2021
The latest info on outback roads including the Barrier Highway is available here at South Australia's Department for Infrastructure and transport.
You should also check our weather warnings page here.