14 Jul 2018, 4:59 AM UTC
Frosty morning as sub-zero temperatures leave southern Queensland shivering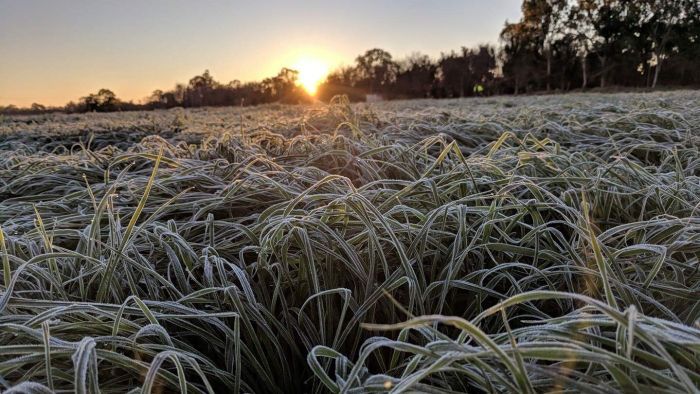 Source: ABC licensed
Southern Queensland has woken to a frosty morning with many areas experiencing sub-zero temperatures. The coolest spot was at Wellcamp Airport in Toowoomba which recorded -6.6 degrees Celsius. The thermometer dipped to -5C in Oakey and Applethorpe, while in Dalby and Warwick it fell to -4C. On farmer Wayne Jensen's place just outside Warwick, he recorded a low of -7.3 degrees. The cold froze his irrigation hoses and left new crops of oats encased in ice. Further down the road in Stanthorpe, photographer Sandra McEwan said her wet hair iced up after she washed it. Meanwhile, Brisbane recorded a low of 6.8C — the coldest morning this year in the city — and it's likely to be even colder tonight with a minimum of 6C predicted. Bureau of Meteorology forecaster Rick Threlfall said a dry air mass was responsible for the plummeting temperatures. "It's coming from a long way south and there's not really any humidity in the air at all, so it's very, very dry — that allows the temperatures to fall away very sharply overnight," he said. "We've got clear skies, very dry air and very light winds, so the perfect combination to allow those temperatures to fall away." He said there are more cold mornings on the way in coming days. "That goes for all of next week really, very sunny conditions gradually warming up through the day." Apple growers on the Granite Belt are welcoming this weekend's cold snap. Stanthorpe apple grower Ros Sutton says her crops need sub-zero conditions. "We need a certain number of chill hours for the apples to set [their] blossom. "If we don't get those chill hours we certainly don't get a good apple crop so we are really dependent on the cold weather," she said.
Note to media: You are welcome to republish text from the above news article as direct quotes from Weatherzone. When doing so, please reference
www.weatherzone.com.au
in the credit.