28 Mar 2014, 2:10 AM UTC
Downpour floods Gold Coast camping show at Mudgeeraba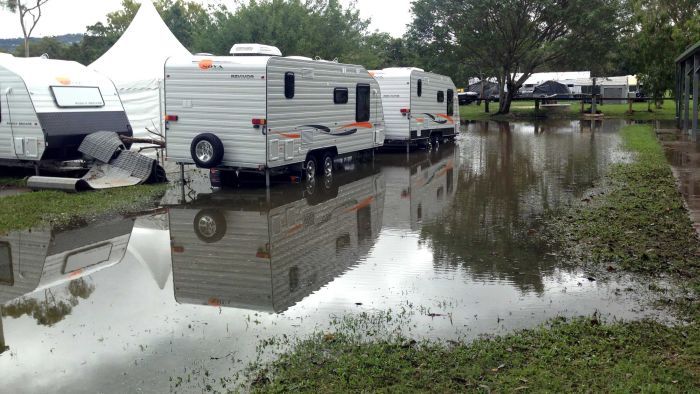 Source: ABC
Organisers of a caravan and camping show on the Gold Coast say there could be a damages bill in the millions of dollars after its Mudgeeraba Showgrounds site flooded overnight. The three-day show was scheduled to start today. Spokeswoman Loretta Paine says there is a major clean-up ahead. "We had a phone call from security to say that the creek beside Mudgeeraba Showground had broken its banks," she said. "We immediately came out and tried to move as much stock for the smaller exhibitors as ... we could and did that until one o'clock this morning and it was just too dangerous and so we couldn't do anything more, still can't do anything more now until it recedes." Rainfall totals in some parts of the Gold Coast region are pushing towards 400 millimetres. Forecaster David Grant from the weather bureau says the Springbrook area is well above the expected average. "As there is always the case, we say the average numbers but always isolated heavier falls do occur in some certain suspect spots and in this case it's always those elevated parts of the Gold Coast, in particular Springbrook, which always manages to knock up a higher score well above the rest of the region, where it's currently sitting at 379 millimetres," he said. Energex says there are still about 112 Gold Coast customers without power. About 20,000 customers lost supply overnight.
Note to media: You are welcome to republish text from the above news article as direct quotes from Weatherzone. When doing so, please reference
www.weatherzone.com.au
in the credit.