Danielle Grindlay, 15 Dec 2016, 2:28 AM UTC
Chinese tourists flood isolated grain town, throwing drought-stricken community an unexpected lifeline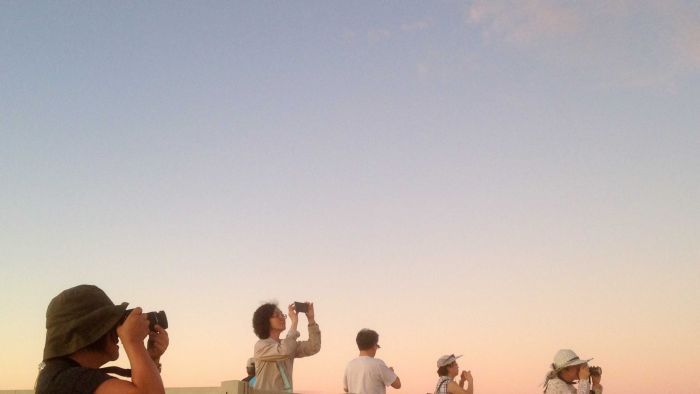 Image: ABC Rural. Source: ABC
Even to an outsider, Chinese tourists seem out of place in the drought-stricken grain town of Sea Lake. Speckled among vast wheat paddocks, about 400 kilometres from Melbourne, it is one of Victoria's most isolated towns. Regular drinkers in The Top Pub don bemused expressions as white-gloved hands juggle cameras and the pizza menu is dissected in a foreign tongue. The locals in this conservative farming community were baffled by the sudden influx of Chinese tourists. It started as a trickle a couple of years ago, but neat lines of shoes can now be seen outside local motel rooms any night of the week. The attraction, lauded on a growing number of Chinese websites as one of the best things to see in Australia, is a shallow salt-crusted depression six km out of town: Lake Tyrrell. "We're not the most multi-cultural community, unfortunately, and it was quite a shock," florist Jenny Simpson said. "We're still unsure why Lake Tyrrell is such a big, big tourist attraction," local Jane Stacey added. "It's not just Australian-based Chinese, it's international as well," she said. "We've now got contacts coming straight from China." On a typical Monday, Joseph Lee, along with a minibus and 10 of his friends, completes the 12-hour drive from Sydney. The group's plane arrived from Hong Kong the day before and Sea Lake was at the top of the itinerary. "I wish to bring them to some of the places with not too many tourists in there," Mr Lee said. "We'll go to the not-so-popular places to give my friends some new idea of what Australia looks like." Half the town it was since millennium drought What tourists find when they arrive in Sea Lake is a town in decline. Business incentive has disappeared; the community has been forced to re-open its supermarket and hardware store as co-operatives, or do without them. Before the millennium drought, summer tourists did bring ski boats to another nearby waterhole, Green Lake. But apart from a freak flooding event in 2011, . The grain producers that prop up the town are struggling through yet another two-year drought. "It's just a matter of keeping your head above water," farmer Darren Bailey said. Tourism could offer Sea Lake an alternative industry to agriculture; a lifeline for a dying town. Where the rooster crosses the road and you can walk on the stars Locals might share genuine shock at outsiders' interest but, through the eyes of strangers, they are now seeing a new sparkle in the town. Like the cranky old rooster, who wanders back and forth across the main road at will, forcing utes to stop and wait on a regular basis. Exasperated drivers smirk as the bird is stalked for a photo by an enthralled tourist. Once a nuisance pest, he's now a valuable attraction. "Our bloody rooster is famous," local Alison McClelland said after a video of the grumpy cock crossing the road went viral on social media. As for the magic of Lake Tyrrell, resident star gazer Rachel Pearce said it was worth a 36-hour round-trip. "The night skies here are reputably some of the best in the southern hemisphere, anywhere in the world really," she said. Constellations like the Southern Cross can be hard to decipher, amid the bright stars not usually visible in light-polluted skies. When that scene is reflected on the salt lake, tourists can compose photos that depict them 'walking on the stars'. Dreamtime stories of the skies passed to next generation The Indigenous Boorong people of Sea Lake were famous astronomers, using constellations to decipher seasons and tell dreamtime stories. Although the clan no longer exists as a separate entity, its stories were recorded by pastoralist William Stanbridge, who moved to the region, from England, in 1841. Sea Lake kindergarten holds 'bush kinder' nights under the stars, where stories of the skies are passed to the next generation. The cultural tourism opportunities could add another layer to the Lake Tyrrell attraction, but visitors come at a price. "This is a fragile environment," Rachel Pearce said. "It's getting damaged and you can see the degradation to the lake. "You want people to come and see these wonderful skies and the sunsets and sunrises ... but it is an issue." Once taken for granted, now fiercely protected When cars started getting bogged on Lake Tyrrell and piles of rubbish could be seen blowing across its surface, Jane Stacey was the person locals complained to. She is the face on every committee, the big voice for a small town – but even for her, the task of educating a population of 1.4 billion people is a challenge. "We just need to control where they go and what they're doing," she said. That is easier said than done when dealing with a lake spread over 21,000 hectares. The major issue is that photos shared on Chinese blogs depict tourists reflected in Lake Tyrrell water. A huge part of the lake is dry, so tourists drive onto the thin salt crust in chase of the perfect snap. "Tow companies won't come anymore because they realise what they're doing and where they're driving," Ms Stacey said. "It's very common; within a 100km radius you won't get a tow truck to come and tow you out of the lake anymore." Ms Stacey's first response was to create pamphlets written in Chinese languages, detailing the do's and don'ts. She is now rallying the Government to fund signage at the various entry points and barriers in key areas. Salt mine sites present a fatal attraction One road into the lake leads to a salt mining site. Salt stacks stand six metres high and tourists see photo opportunities in the white caves created by overhangs of salt. Site manager Brian Spratley said it could easily be a fatal attraction, if parts of the stack crumbled. "They are risking their lives every day," he said. "We just don't know how to stop them ... we've already gone to the point of putting Mandarin signs up now, but they're still coming through." Nature makes up for lack of services When you read about a town in a tourism guidebook, you don't expect to find a ghost town where even food is difficult to find. Local businesses have started catering for their new shoppers, but at the moment there's not much on offer. "I find no people," Alice Lee, from Hong Kong, said. "And then lots of shops are closed ... we have to find a place to have our lunch but it's really quiet." But even if there's nowhere to eat and no souvenirs to buy, the tourists will keep coming. Because what Sea Lake has to offer cannot be bought in a shop. "In Hong Kong I don't find the scenery like this," Ms Lee said. "I try to see the beauty of the scenes and the different changes in the skies, the clouds and over the sun. "That's why we want to come."
Note to media: You are welcome to republish text from the above news article as direct quotes from Weatherzone. When doing so, please reference
www.weatherzone.com.au
in the credit.